He's been out for a few days PS4 the last game dedicated to Spider-Man and it is well known that the title has dozens and dozens of Easter Egg, but one in particular has caught our attention.
Hey, a wedding proposal !!!
I do not know if this is the first time that this type of proposal is inserted in a video game but the story behind it is much more interesting.
Apparently the one who asked to make the proposal, contacted some time ago one of the guys from Insomniac to insert in the videogame such Easter Egg.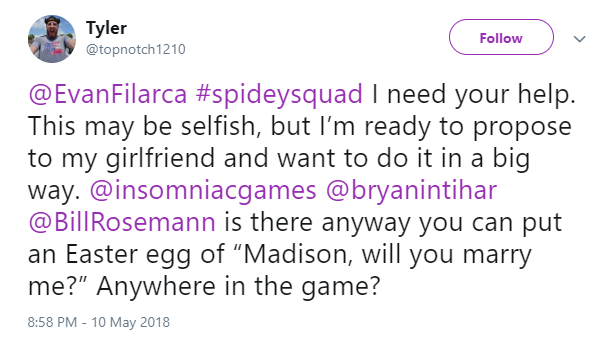 Nice idea, pity that ... ..
... you left him for his brother (on this point there is no absolute certainty, except that the relationship now exists) shortly thereafter.
If you know some Easter Egg sadder than this, let us know, because we do not remember it!