The world has somehow stopped because of the pandemic. From fairs to sports everyone had to at least postpone some events. Formula 1 is no exception, the largest automotive championship in the world.
Engines stopped for Ferrari, Merchedes, Red Bull and all the other teams, waiting for the FIA ​​to decide when the first race will be possible. This also meant a lot of free time for the drivers, who are often very young kids. And we know what kids do when they have free time.
Last's nights #FastVersus was full of excitement.
But did Lando come out as the winner? Head over to YouTube now to find out 😉

LAST LAP LUNGES // Fast Versus

🎥 https://t.co/Dgffor7Ngs pic.twitter.com/M0psNUFToY

- # L4NDO (@ TeamL4NDO) April 6, 2020
Exact, they play video games.
What you see in the video is Lando Norris, McLaren pilot. IS Twitch streamer. Let's realize how much this boy likes his job, if he comes home to relax, he plays a game that is a simulator. As if a farmer was playing Farming Simulator to have fun.
Norris has been on Twitch for some time now, but the stoppage of the championship has led to getting our hands on F1 2019 also other drivers, more or less young. Formula 1 is a successful game, with an extended audience e its own E-Sport championship. And perhaps this very tradition that has lasted for three years has led the F1 Esport Series to organize, on March 15th, "Not the AUS GP".
The event was to be unique, and was intended to replace the Australian Grand Prix with a virtual race that would compete professional players and professional drivers. The most relevant names to participate were Vandoorne and obviously Norris among the pilots, Bereznay and Opmeer among the players.
The event pleased, and quite a lot, so much so that five days later, on March 20, F1 Esport Series announced Virtual Grand Prix. An event that would have replaced the postponed races with virtual races, trying to involve more and more professional drivers.
The first race, the Bahrain GP, as well as the usual Lando Norris, of Latifi and Hulkenberg, who race for Williams and Racing Point respectively. There victory however went to a Renault test driver, Guanyu Zhou, which curiously has not yet walked the streets of a Formula 1 circuit for an official race.
The idea caught on, and the second GP of the virtual season also took part Charles Leclerc of Ferrari, Alexander Albon of Red Bull, George Russell of Williams, Antonio Giovinazzi of Alfa Romeo and Jenson Button, world champion in 2009.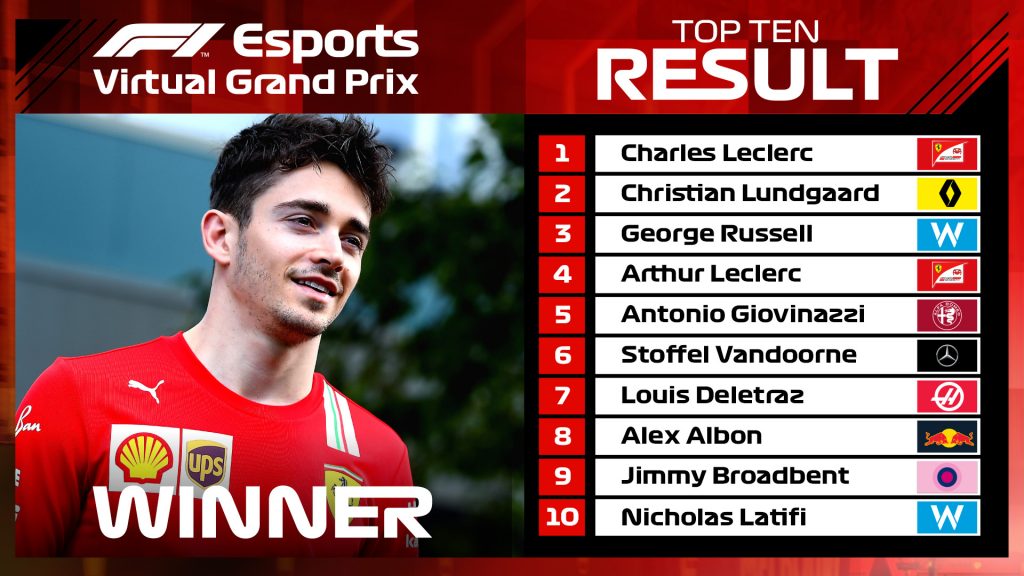 The victory went to Ferrari driver Leclerc, and the next race will be held on April 19, with the Virtual GP of China. The race will be visible on Twitch and on YouTube, but also on Sky Sport Italia, which normally broadcasts Formula 1 races. It is one of the first times that an export event will be broadcast on television in our country.