Is called Cem Bolukbasi, comes from Turkey and was born in 1998. For years he only raced virtually, first in the championship Formula One eSports Series and then in the Formula Relault Esport Series, standing out in the first and winning the second.
From 2019, however, Bölükbaşı decided that his career had to abandon the gaming chair, in favor of racing car seats. After two years of apprenticeship and various appearances between the track and video games, in 2022 the moment for the big leap will come. In fact, he will participate in the world championship of Formula 2.
Gaming and Formula 1
This isn't the first time video games and real car racing have come together. During the first phase of the pandemic, when the Formula 1 championship was forced to close its doors, some drivers had participated in a virtual version of some races, using the F1 game.
The partnership of formula 1 with video games, however, it has very deep roots, which date back to the 80s, and has allowed the development of a rather thriving competitive scene. It is from this scene that Cem Bölükbaşı comes.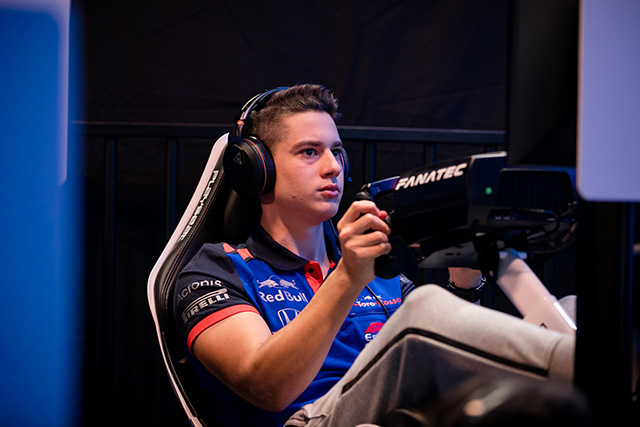 Cem made its debut five years ago, in 2017, at G2 Esports FA Racing, and then developed its career in Formula One eSports Series. He runs for various Formula 1 teams that have created their own virtual teams over the years, such as McLaren and Toro Rosso (now Alpha Tauri). The peak of his career, however, comes with the victory in the first Formula Relault Esport Series, in 2020, but something has already changed for him.
The career as a pilot
In fact, already in 2019 Bölükbaşı had begun to participate in real races, participating in the European championship GT4. After a first trial period, culminating in a second place in Misano, Cem decides to move definitively to racing and in 2020 he dedicates himself full time to cars.
The results can be seen, and in 2020 the usa career as a pilot takes off: three pole positions and three victories that ensure him the second place in the championship and the jump in the category. It is time for Cem to switch to single-seaters, especially those of Formula 3, Asia championship 2021.
Here too the performances are encouraging. Bölükbaşı scores points in 13 of the 15 races disputed, consistently placing himself in front of his teammates at the helm of the BlackArts. In July 2021 Cem moves from Asia to Spain, competing in the Euroformula Open, one of the European Formula 3 championships.
In his debut match, Bölükbaşı immediately proves that he has what it takes, despite his anomalous career. First place in race one in Hungary, first pro video game player to win a race in an FIA championship. Another victory and various placings allow him to rank fifth in the league.
But for Cem the satisfactions are not over. The communication from the team arrives on January 12, 2022 Charouz, a team from the Czech Republic, which will occupy one of the seats of their Formula 2 cars by Cem Bölükbaşı.
What to expect from Cem in Formula 2
As a gamer it comes natural to cheer for the young driver, went from PC to racing in just two years. Although fast, his career was all in all supported by good results, and it was not to be taken for granted.
The FIA ​​championships are not always temples of meritocracy, especially in the promotions of the drivers from the lower series, and that of Bölükbaşı could have been yet another case of a driver hired for visibility.
However, Cem deserved a Formula 2 seat with pole and victories, in a low-ranking team that will still allow him to gain experience among professionals. For many young drivers, participating in a world championship is already a milestone. Cem, with his fast and anomalous career, seems to be fully aware of this:
"I was in Abu Dhabi in 2017 for F1 Esports as an Esports driver. Coming back after four years to test an F2 car was pretty crazy, if you think about it. I saw the Formula 1 finale, the tests, and then the next day I was driving the F2 car. Was like a child living a dream in those five or six days".
Bölükbaşı will not only be the first professional gamer to ever drive a Formula 2 race. In fact, he will also be the first Turkish driver in the history of the championship. A double record for a driver who, we hope, will not cease to amaze the racing world.